Please note that Play:Right is a Danish site and while usable without,
it is only partially translated to English.
Blocks marked with yellow backgrounds are systematically translated
by Bing Translate.
Exhibition
Please click on the single exhibition marked as a blue box, for more info on the exhibition, or view a complete list of all the museum's different original
arcade machines
or titles for the platform:
Centipede
Atari (1972) 1981
This game is exhibited and playable!
View more info on Centipede...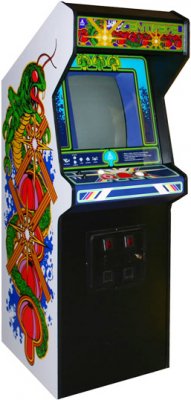 Hall of Fame
| # | Initialer | Score |
| --- | --- | --- |
| 1. | RJK | 55'084 |
| 2. | RJK | 53'447 |
| 3. | RJK | 51'856 |
| 4. | RJK | 46'262 |
| 5. | RJK | 46'214 |
| 6. | CKK | 45'891 |
| 7. | CKK | 45'831 |
| 8. | THC | 44'457 |
| 9. | RJK | 44'368 |
| 10. | THC | 43'752 |