Please note that Play:Right is a Danish site and while usable without,
it is only partially translated to English.
Blocks marked with yellow backgrounds are systematically translated
by Bing Translate.
Exhibition
Please click on the single exhibition marked as a blue box, for more info on the exhibition, or view a complete list of all the museum's different original
arcade machines
or titles for the platform:
MegaDrive + MegaCD
(Genesis)
Sega 1988
After having realised that the
Master System
would never prove to be a real threat against Nintendo's
NES
, Sega developed a whole new platform called MegaDrive - Genesis in the US. The MegaDrive quickly became a success, and ended up being Segas largest selling platform. And because of this, Sega was the king of the industry in the early 90s.
Technically the MegaDrive very closely resembles the arcade hardware of its time, with a Motorola 68000 main processor and a Z80 as coprocessor for the sound. The MegaDrive is capable of showing 64 colours from a palette of 512, in the resolution 320x224. The machine is generally speaking a bit stronger than the Super Nintendo, but it does not offer the same special graphical or sound options. Not resembling anything attempted before, Sega also released the add-ons
MegaCD/SegaCD
and
32X
.
Without even the slightest doubt, the most influential game of the MegaDrive era was
Sonic The Hedgehog
, who at the same time became the mascot of Sega, in the struggle against Nintendo's Mario. In line with the competition of the time, the MegaDrive had a huge library of 2d platform games, where the action oriented
Gunstar Heroes
is probably one of the best and most remarkable. Worth noticing are also Segas RPG series
Phantasy Star
and
Shining Force
, who both had quite a few chapters on the platform. Finally the MegaDrive also offered a huge number of decent conversions of the best of Segas arcade portfolio of the time.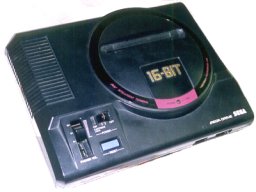 Popular games for Genesis