Please note that Play:Right is a Danish site and while usable without,
it is only partially translated to English.
Blocks marked with yellow backgrounds are systematically translated
by Bing Translate.
Exhibition
Please click on the single exhibition marked as a blue box, for more info on the exhibition, or view a complete list of all the museum's different original
arcade machines
or titles for the platform:
Commodore +4
(Commodore 16)
Commodore 1984
Commodore 16 er et af flere eksempler på misforståede udgivelser fra Commodore. Selvom maskinen kom årevis efter
Commodore 64
og lignede denne til forveksling, så var den ikke tænkt som en afløser herfor. Selvom den på visse punkter var bedre, så var den dårligere på flere og var samtidig slet ikke kompatibel med forgængeren. Andre maskiner i samme serie (også overordnet kaldet Commodore 246) var Commodore 116 og topmodellen Plus/4, der udover en række indbyggede programmer også havde et af de mest stilrene designs, der på det tidspunkt var set indenfor computere. Ingen af maskinerne opnåede nævneværdig popularitet og betragtes som en fiasko.
Teknisk var Commodore 16-maskinerne baseret på en 1,25 MHz 7501 CPU. Ellers adskilte de sig fra Commodore 64 ved at have en dårligere lydchip, mindre RAM, men til gengæld mere ROM og dermed langt bedre indbyggede muligheder for at programme maskinen med det indbyggede Basic. Uforståeligt havde platformen ingen hardware sprites, hvilket gjorde spilprogrammering til en meget svær opgave.
En del spil udkom der dog til Commodore 16, hvoraf de fleste var budgettitler som
Video Meanies
og
P.O.D.
fra Mastertronic, der kunne købes på bånd til fyrre kroner i elektronikbutikkerne. De fleste gode af disse spil blev lavet af makkerparret Shaun Southern og Andrew Morris, der også lavede
Trailblazer
og fortsatte samarbejdet på
Amiga
, hvor de stod bag
Lotus
-serien. Derudover var den primære udvikler tyske Kingsoft, der lavede titler som
Bongo
og
Winter Events
.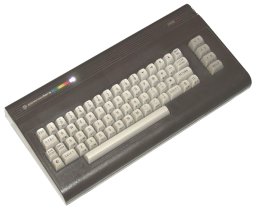 Popular games for Commodore 16